This edition of Shippeo Updates holds some exciting new features and functionalities but also some updates and improvements on existing features.
Read for yourself and let us know what you think - we are looking forward to hearing your feedback!
Updated Order Details View
Earlier this year, we have released a new and updated order details view (see here) so that you can follow up your orders even easier. Based on your invaluable feedback, we are continuously working to provide you an even better version. We are excited to share the latest update with you.
As you can see below and also in your Shippeo account, the timeline and map tab have been combined to one page. This helps you find all information you need without switching tabs!
Improved User Experience for Shippeo
We continuously strive to make Shippeo even better. In doing so, we not only develop additional features and functionalities but we also would like to improve your user experience while using our platform. We, therefore, are happy to share two exciting updates with you:
Freezing Top Row on Orders and Tours View
When scrolling through your orders and tours on the Shippeo platform, the bop bar will now freeze so that you can always see the names of the respective columns.
New Bookmark Options
The bookmarks in Shippeo enable you to save your selected filters or your searches. The updated option enable you to combine filters and searches and save them into a bookmark.
When you are on your orders, tours or global map overview and you search for a specific term and/or you are using a specific filter, you can then click on "Save" under the search bar to see a revamped pop-up. You can choose to include the search, your filter choice or even the specific geolocation you have chosen. The last option is only available on the map view.
Read all about Filters and Bookmarks here.
Addition of 'Select All - Option' for Filters
When navigating through the filters on your Orders, Tours or Global Map page, you will be able to click "Select All" for the filters below to help you follow up your orders even easier:
ETA next site
Mode of transport
Problems
Status
Goods
Read more on Filters and how you can use them best here!
Clearer and Quicker Transition between Order Overview and Order Details
Based on your amazing feedback, we made the transition from order overview to order details smoother which means you will see your order details even quicker when clicking on an order row.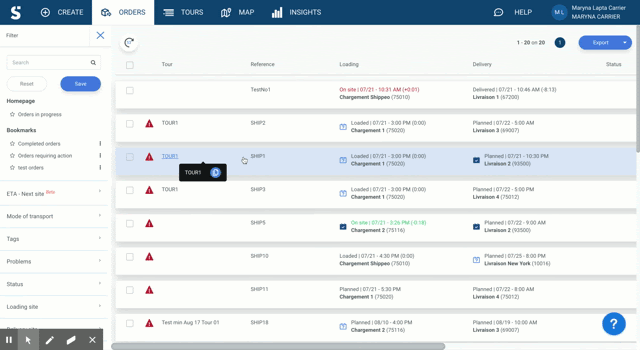 External ETA Display
Shippeo's ETA is pretty neat, it is a feature we are really proud of! Helping you understand where your truck is and when it will arrive at its destination puts a smile on our faces.
So, what could be better than a great ETA? Two great ETAs!
That's why you can now send an external ETA to Shippeo via EDI. We will then display both, the external ETA sent by you and Shippeo's own ETA - giving priority to the external ETA. This means that the external ETA will be displayed on the order overview and in the order details view but when you hover over it, you will see both ETA indications and in case the external ETA is not available, Shippeo's ETA has got you covered.
Read more about Shippeo's ETA here and find our API Documentation here.
External ETA

Time calculated
Time received
ETA and time difference

Shippeo ETA

Time calculated
ETA and time difference
Remaining distance
Global Map Updates
Indication of Skipped Order Phases
[Shippers Only]: Choice of Information Display
This update is a special one for all Shipper users. When hovering over a resource on the Global Map, as a Shipper user you, by default, see the name of the Carrier responsible for this order. We have now developed something special for you to ensure Shippeo fits seamlessly into your workflow.
You now have the option to choose the information that is being displayed when hovering over the resource on the Global Map. You have the option to choose between:
Carrier Name (default setting)
Previous Stop of Resource
Upcoming Stop of Resource
Find out more about this option and other display choices in our User Management article.
Displaying Stops instead of Carrier Name
Goods and Cargo Management
Goods Management is a relatively new feature on Shippeo, and we are continuously working on creating an even better and more seamless process and experience for you. Therefore, you find some exciting updates for this feature below.
Note: If you are interested in learning more about Goods/Cargo Management, then click on the respective link here - Shipper / Carrier.
New Look for the Handling Units section
In your order details (read more about it here), you have one section about the goods/cargo section. In case you are working with Handling Units, you will see that this section has been glammed up to improve your experience.
Before, the overview was similar to a table and while this was useful, we decided to change the view to make it easier for you to distinguish the separate Handling Units and these blocks enables Shippeo to display additional information without creating a crowded feel.
New Handling Units Details View
Indicating "Misdelivered" Handling Units
It can happen that a Handling Unit was supposed to be delivered at place A, but ended up being delivered to place B. This information can now be sent to Shippeo via EDI, and we can display it in the details section of the Handling Unit (see below).
Note: This is an additional feature and needs to be activated for your account. If this would be interesting for your business, then please reach out.
Possibility to add information regarding "Returnable Packaging"
Shippeo now offers you the opportunity to add information regarding the returnable packaging to an order using EDI. You can indicate its name, type and quantity and it will be displayed in the cargo section of the order (see below).
Public Order Link - Additional Cargo Information
When you now add information in the cargo details references, Shippeo will display this information on the public link of this order. This to keep all involved parties informed.
| | |
| --- | --- |
| Find more information on: | |
Small Updates & Fixes - Big Impact
We are also happy to share some smaller updates and fixes with you which might seem small at first but will hopefully make your Shippeo experience even better!
Links in Order Comments - Now Clickable
Comments on orders or comments when updating a status are a useful tool to keep everyone informed. As we are continuously working on not only creating new features but updating existing ones, it is now possible to add links in these comments which automatically create a hyperlink.
This means you can now directly click on the links and will be redirected to the url in question.
Tip: Another efficient way to keep everyone informed is our Discussion Feature.
Clickable Links in Orders
Loading & Delivery - Display Scheduled Timeframe & Appointment
Shippeo used to only display one loading or delivery time slot. As soon as the Carrier had taken an appointment, Shippeo would replace the originally scheduled loading or delivery slot with the new appointment. As this might lead to confusion, we decided to now display both time frames for full transparency.
Display of scheduled time and appointment slot
Going hand-in-hand with this update is a smaller fix we launched recently. When the Shipper did not specify that an appointment should be taken for the loading or the delivery slot, then all appointment updates from the Carrier are going to be blocked. That way, the originally scheduled timeframe prevails. In case you still wanted to change the time slots, then we advise you to get in touch with your client or carrier respectively.
Special Character Display in SMS Notifications
| | |
| --- | --- |
| | When using SMS Notifications in languages using special characters, such as Portuguese, these characters used to be displayed as '?'. As Shippeo aims to be globally local, this is something we wanted to fix as quickly as possible and all special characters are now displayed correctly. |
If you want to find out more about notifications in Shippeo, then just check here.