We know how important it is to be able to track not only the truck but also what is inside. We therefore improved our Goods Management in Shippeo to accommodate more specifications for Handling Units. The purpose of this is to allow for more granularity and provide our users with more options when dealing with their cargo.
Possible Goods Specifications
You can now add additional specifications for your goods on order and handling unit level.
Order Level
Handling Unit Level

Full truck
Weight
Linear meters
Volumes
Pallets on the ground

Type: 3 non-customisable packaging types - pallet, parcel, outsizes
Name: customisable label for packaging
Tracking code: unique identifier for the good
Dimension (cm)
Adding Specifications to Goods
For the moment, the Goods Specifications need to be sent to Shippeo via EDI and cannot be entered or updated manually. We can receive it either with order_in or with events_in (read more on an EDI connection).
We will continue to improve this feature and will keep you updated!
Goods Overview in Shippeo
When accessing the order details page (read more here), you find all information on the specified cargo and their status under Goods.
Important: These cargo details are accessible to Shipper and Carrier.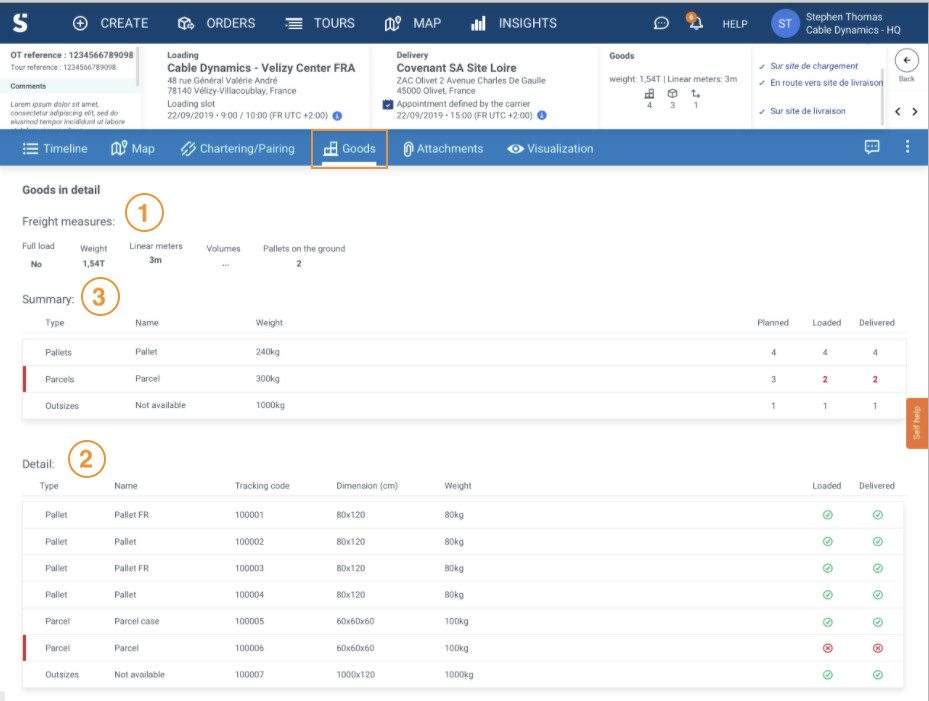 1. Freight Measurements
The measurements of the entire load per indicated specification.

2. Detail and Status
Details of each handling unit including their loading and delivery status which is indicated by the icon next to each unit:
| | |
| --- | --- |
| | Handling unit not (yet) successfully loaded/delivered |
| | Handling unit successfully loaded/delivered |

3. Summary
Summary and combination of all individual units displayed in the details section.
Division of goods based on their types (pallets, parcels and outsizes) and names
Summing up total weight
Loading and Delivery status; red in case of discrepancy between planned and loaded/delivered amounts

Example

| | | |
| --- | --- | --- |
| Type | Name | Weight |
| Pallet | Pallet A | 1000kg |
| Pallet | Pallet B | 500kg |
| Parcel | Parcel 1 | 2500kg |

Goods is displayed in 3 different locations for your convenience:
On the Order List:


On Tours list :


On the top level of order details :
Feedback on Goods during Loading/Delivery
Updates and feedback on Goods and possible non-conformity during Loading/Delivery can currently be managed as follows:
Order including specified goods is entered into Shippeo
Resource arrives at loading/delivery site
Scanned goods are added into the Warehouse Management System
Warehouse Management System sends information on loading/delivery including goods via EDI to Shippeo
Shippeo displays information on Goods including possible discrepancy
Shippeo only functions as messenger in this situation, solving a discrepancy in loading or delivery compared to the planned cargo is to be taken up directly with your carrier or client.
We will continue to improve this feature and will keep you updated and if you have any additional questions then please consult our FAQ article on Goods Management.